This mile high mountain town is located in the U.S. state of Colorado, 25 miles northwest of Denver and at the base of the foothills of the Rocky Mountains. Boulder frequently acquires top rankings in health, well-being, quality of life, education and art. Which is exactly why so many athletes live and train there.
MEET THE SEEKERS


WIDE OPEN SPACE.
Boulder's open space and mountain parks contains 151 miles of trails.
MAGNOLIA ROAD - AVG. ELV. 8,400 FT
What makes this road so special? It's a dusty, lonely, 12 mile road bordered by old mountain ranches and thick forestland, with no curbs, no sidewalks and no distractions. It's where the The University of Colorado Boulder Buffalos cross country and track teams pack on the miles and put in their long runs.
MESA TRAIL - AVG. ELV. 6,100 FT
This moderate-to-strenuous trail runs 6.7 miles along Boulder's Flatirons and foothills, connecting Chautauqua Park (north) with Eldorado Canyon Road (south).
BOULDER CREEK PATH - AVG. ELV. 5,500 FT
The Boulder Creek path is about 5.5 miles long and runs to Boulder Canyon on the west end and Stazio Ballfields on the east end (just past 55th Street).
MARSHALL MESA / ROAD - AVG. ELV. 6,000 FT
The Marshall Mesa Loop touches the southern Grasslands Habitat Conservation area, which protects the largest remaining parcel of intact grassland habitat in Boulder.

FROM TRAILS TO TRACK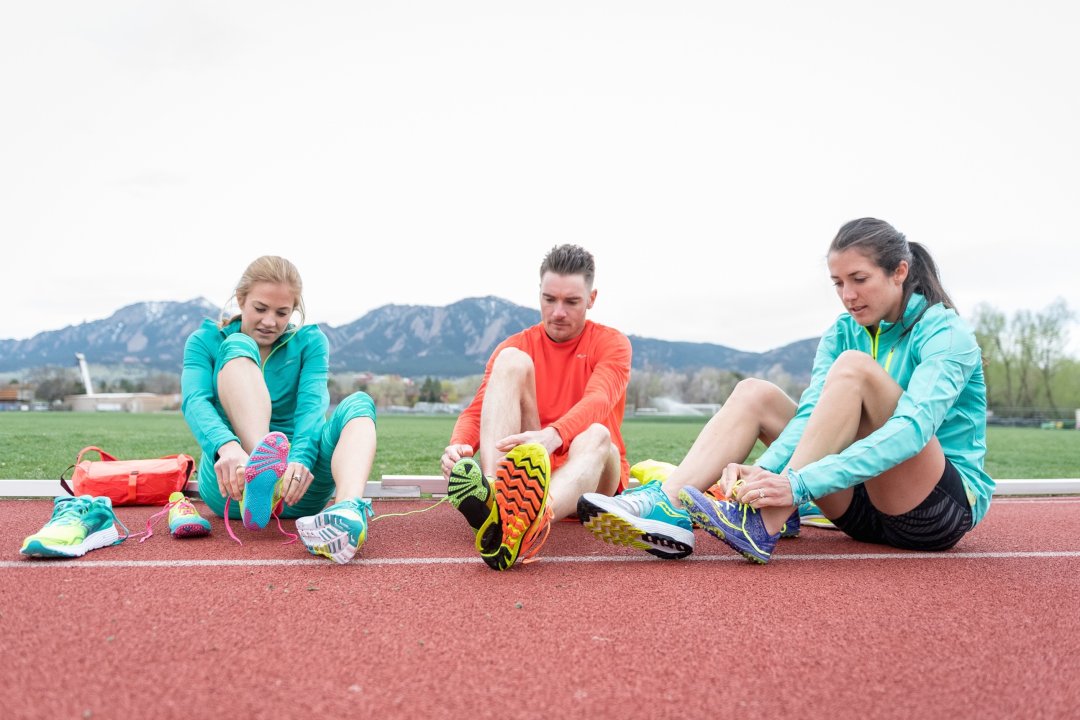 The University of Colorado Boulder was established in 1876. The Colorado Buffaloes compete in 17 varsity sports and are members of the NCAA Division 1 Pac-12 Conference. Alumni, Laura Thweatt and Sara Sutherland, left their mark as Lady Buffs and still occasionally train on campus at one of the city's most beautiful tracks.
LAURA THWEATT
"I run because I love the simplicity that comes with it. Running is where I feel most alive, where I feel most like myself. It's just you and you're running shoes. I am able to find a clarity in my life through running, and I love that it challenges me every day. It pushes me to be the best that I can be, and I love how that it is different for everyone. That is why running is so relatable. We are all out there pushing through it together yet we are all out there doing it for our own reasons. Running means something different to everyone and thats what makes it so special.

I look up to and greatly respect my coach Lee Troop. He was a tough and gutsy competitor back in his day, one of the toughest marathoners to date. His love and passion for the sport are inspiring and I'll never be able to thank him enough for getting me to believe in myself again. That is one of the greatest gifts, self belief and confidence in your ability to train hard and compete fearlessly."
SEAN QUIGLEY
"I really enjoy the challenge, everyday you look to improve yourself as an athlete, it's really a inner challenge day to day. On race days it's a challenge against your competition, so that challenge is more outward. What really keeps me going are those moments when everything comes together, you accomplish something you've put so much effort into. Those moments are what really keeps you motivated.

I look up to my parents. They did their best raising me and my three siblings. They're my biggest fans and have always been supportive. I try to emulate them with my own daughter."
SARA SUTHERLAND
"Oh man! How could I NOT run? For as much as I love to compete and am driven to discover how good I can become at this sport, I run because love the simple, cathartic joy of moving, sweating, focusing, breathing, and putting one foot in front of the other. I am so grateful that God gave me a body and mind to test my mental and physical limits, and connecting with that sense of gratefulness and awe is what I find most beautiful about this sport.

I look up to quite a few personal heroes, some of whom are currently my training partners. They have achieved the highest levels in our sport and remain humble and tenacious."



PEARL STREET
The heart of Boulder, a four block pedestrian mall with a blend of locally-owned businesses and national chain stores and restaurants. During the summer months, Pearl Street Mall is the stage for a number of street performers, including musicians.
1. BOULDER THEATER
An art deco institution since 1906 for various music shows & mostly avant-garde films.
2. HEARTS ON A SWING
Numerous fountains and sculptures are placed along Pearl Street, such as this freestanding bronze sculpture of a woman on a swing created by George Lundeen. Like Laura, she also enjoys wearing the Hurricane ISO 2.
3. TULIPS
A number of small gardens which are planted with a variety of flowers and trees, most notably tulips in the spring.
4. WHERE'S YOUR HAPPY PLACE?
CBS Sunday Morning calls Downtown Boulder the Happiest Place in the United States.
BOULDER DUSHANBE TEAHOUSE (1770 13th St)
A symbol of peace and global friendship. Sitting alongside Boulder Creek in Central Park, the Teahouse is considered one of Boulder's most attractive and popular tourist attractions, as well as being a local favorite for great food, tea, and atmosphere.
1. International cuisine for breakfast, lunch, dinner and weekend brunch as well as traditional afternoon tea features over 80 premium teas.
2. Lounge seating - perfect post-run spot in the perfect post-run gear: Life On The Run Collection.
3. Eight colorful ceramic panels, created by Victor Zabolotnikov, grace the building's exterior and display patterns of a "Tree of Life".
4. The ceiling of the Teahouse was carved and painted with intricate patterns traditional of Persian Art. No power tools were used in the original construction.



MUST EXPLORE
1. MOUNT SANITAS (2 miles W)
A great Colorado hike with several trail options ranging from an easy stroll along a meandering brook to a demanding trail up the mountainside
2. RED ROCKS AMPHITHEATRE (28 miles S)
This is the place to not only see a concert under the stars but explore the vast trails with breathtaking views.
Lee Troop, a three time Olympian from Australia, and former Australian Record holder, is the owner of this run specialty shop as well as founder of Boulder Track Club and coach Laura Thweatt and Sean Quigley.
4. ROCKY MOUNTAIN NATIONAL PARK (48 miles N)
Located in the Front Range of the Rocky Mountains. Within the boundaries more than 100 peaks rise above 11,000 feet in altitude, including Longs Peak at 14,259 feet.
5. MANITOU INCLINE(104 miles S)
The incline is 1 mile, but climbs 2,000 vertical feet. It's not for the faint of heart, but people from all walks (or climbs) of life have given it a go. It is, perhaps, the most unique and challenging trail in the country.
Photos by: Matt Trappe